Time for fruitful ideas!
Last year we've seen the rise of completely new marketing trends that changed our vision on how to promote and brand our products. Some of the marketing trends were already familiar but still took the front stage just last year. So what 2015 has brought to marketers? We will discuss 5 major marketing trends to successfully use in 2016.
By the way, you can compare this list with the trends mentioned in our last year's post.
1. VIDEO MARKETING
Marketers didn't invent the bicycle with this one, but in 2015, video has become a really huge trend and it was hard to find a  company that wouldn't use video content for brand awareness, engagement or lead generation.
Why so? Let's start with the fact that video is by default the most engaging type of content. According to the studies, by simply adding the word "video" to your email subject line, you can boost your open rate by the record of 20%!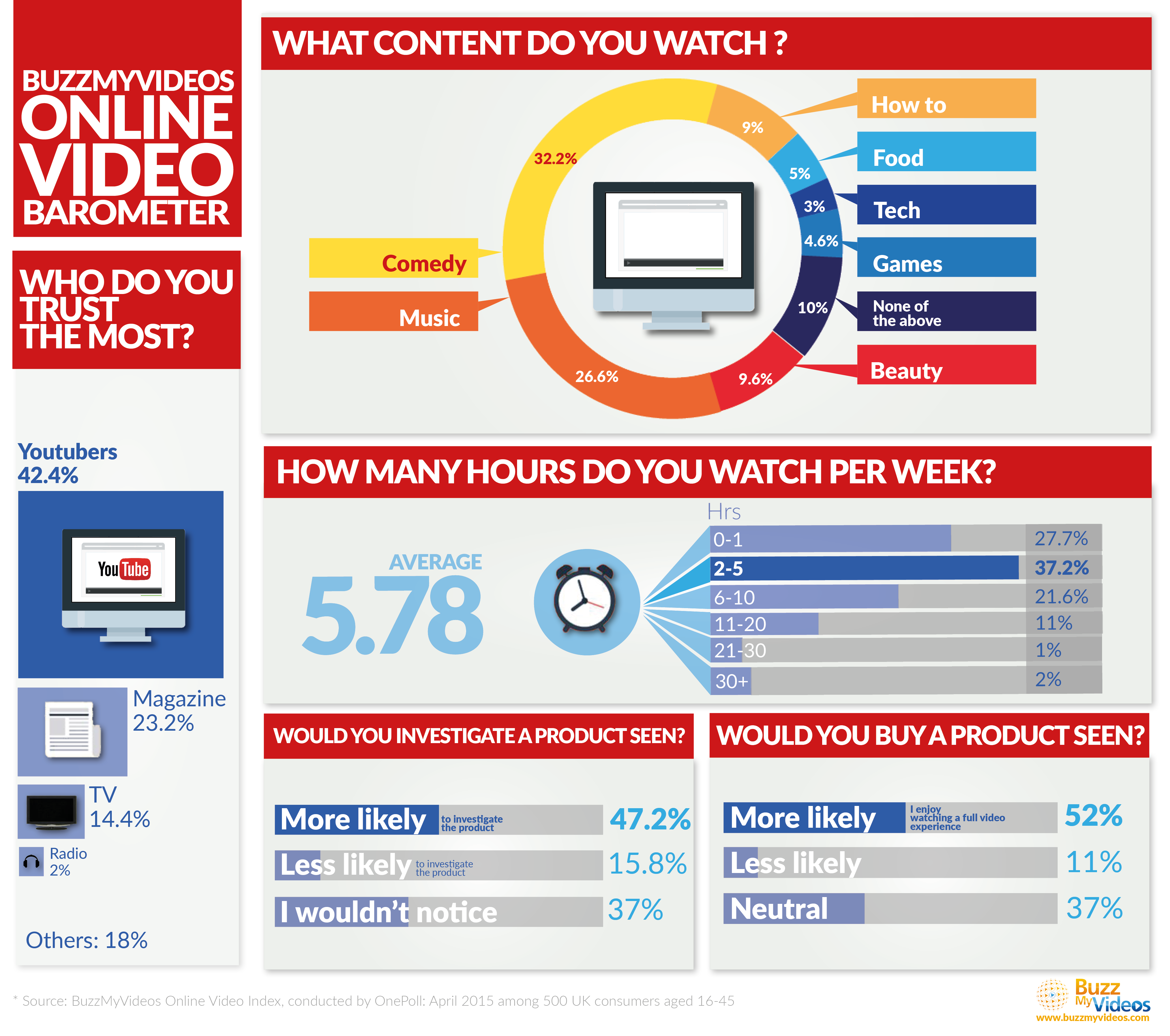 Knowing the video marketing stats, the major Social Media platforms promptly implemented the changes:
Twitter launched video autoplay. You can create video ads on Twitter with the length up to 10 min.
Facebook added an option to implement video ads.
Instagram kept the pace and gave a possibility for short video ads.
Lots of brands launched video streaming via Periscope and Meerkat. At the end, Hubspot called 2015 – The year of video Marketing. A huge honor!
Will the video keep its positions in 2016? It certainly will! Already now, online video accounts for 50% of all mobile traffic, and it's obvious that this numbers will keep on growing.
2. MOBILE MARKETING
Mobile devices are rapidly occupying our life; no wonder marketers are watching closely the marketing possibilities that are offered with smartphones. Even Google is now devoting a big part of its ranking to mobile responsive websites. Plus, now you can find a mobile app for pretty much.... anything!
The benefits are on surface:
Almost every adult has a smartphone;
Marketers have more options with geo-targeting;
Direct marketing communication with different customer groups;
Real-time delivery of your messages;
Currently mobile marketing campaigns are comparatively cheaper than traditional marketing.
But let's move from theory to practice. What are the real mobile marketing stats? Well, trust me; they can truly fascinate even the most skeptical person.
Mobile email open rates have grown 180% in the last years, with 48% of all emails opened on a smartphone.
Right now the number of mobile subscribers significantly outweighs the number of web users: 7 vs. 2.4 bn respectively.
61% of all mobile users followed a group, or liked a page created by a brand. (Source – TechHive)
Believe, this is pretty convincing data, and it's clear that the future of mobile marketing is bright and glorious.
3. PODCASTS
Podcasts came from nowhere. One day we were all watching YouTube videos, and the other – listening to the recent podcasts from our favorite marketing blogs. As any successful trend, podcasts quickly spread to all other industries, creating a curious phenomena.  So what is the zest of the podcasts?
It's a great way to reach customers who don't like or don't have time for reading.
The podcast is a show, and it makes people come back for more! Podcast clients are becoming regular listeners more often.
67% of podcast listeners express interest in sponsorship messages and occasionally find them useful, unlike TV or Radio messages, where only 6% of listeners tolerate them.
Apple has surpassed 1 billion subscriptions for podcasts via iTunes.
As you can see, podcasts are just starting their way to customers' hearts, and we will see more and more companies using them to effectively communicate with their audience. Want to try it for your company? You can easily start your own podcast show with Buzzsprout (this one is free), or with Blubbry. Both have easy and handy WordPress plugins.
4. SOCIAL MEDIA
Social Media is a long time marketers' favorite, changing every year the way brands use social media networks and reach out to their target personas. 2015  has also brought us also some disappointment, especially with Facebook, changing the algorithm and dropping organic reach to the all-time low for many brands. It definitely worked well for Facebook it terms of ad demands, but marketers had to think outside the box last year to find the way to be noticed.
So how was Social Media marketing developing last year? Stats are impressive as well:
94% of B2B used LinkedIn to distribute the content;
54% of B2B marketers said they have generated leads from Social Media;
Yet we have some controversial data, showing the lack of trust. Look at that:
Just 18% of consumers trust posts by brands or companies on social sites like Facebook and Twitter. (MediaPost)
68% of U.S. consumers say they "mostly" or "always" ignore brand posts on every social network. And 83% of consumers say they have had a "bad experience with social media marketing." (Experience: The Blog)
With Social Media channels becoming more and more commercialized, consumer's trust is falling, and ads are seen as a spam. But the personal recommendations in forms of shares and likes are gaining visibly more value. In this case, it doesn't play a big role if the content was paid to be promoted or reached the viewer in 'organic' way.
Let's see what is happening on the other channels. If we look closely, we will notice a huge 'Boom" in the Social Media, that just recently gained social weight. Look at Vine - biggest brands are there with their short stories. And yes! It looks like affordable type of video marketing.
SlideShare? Another great platform, that is rapidly developing, and true, it still has a long way to go. With LinkedIn acquistion and now accepting a CPL advertising possibilities, the channel has got a great potential for expansion this year. 'Serious' B2B brands are already there. If you rock at presentations, 2016 can totally be a superstar year for you.
Ello - this Facebook - Tumblr centaurus should totally attract marketers due to its philosophy: ab-so-lu-te-ly no advertising. Sounds strange, but simply imagine the the level of trust and influencer potential!
What is next for Social Media? Incredible Facebook profits last year inspired the other major channels to follow their example. Twitter is changing the algorithm too, and most likely we will see significant changes in the way users get the content. And it's a big question, how reliable for the audience the paid content is going to be?
5. INFLUENCER MARKETING
Influencer marketing has been growing in the past years and 2016 has clearly bright perspectives. It's not absolutely new, and it always existed in a certain form. Celebrities appearing in brand's clothes, using promoted brand's mobile in public and so on. With the rise of Social Media, the concept has changed.
If you have enough followers, you regularly write about fashion, food, tech – brands can reach you with a request to promote their products. Great business, actually!
With the spreading of ad blocking, influencer marketing is becoming a solid way to reach the audience.
So what do statistics say?
The studies show that teens prefer top YouTube bloggers to celebrities. Eight YouTubers ranked ahead of both Taylor Swift and Bruno Mars.
Influencer marketing is 37% more effective than paid advertising.
Will it have a place in 2016? No doubt that it will become even bigger this year. In case you plan to be a part of Influencer marketing, here are your tools to 'listen' the netweorks carefully:
Buzzsumo - few clicks and you already know all the top trends in your industry. Additionaly you can effortlessly find the influencers.
Meltwater - an ultimate tool to find influencers, track your brand's exposure and listen to what your customers say.
What's trending - it's a website about what's trending. That simple! The beautiful part is that you can even track the video, and find content that is 'cute, 'awesome' or 'inspiring' - categories right from the website.
These are the most important marketing trends for 2016 that are shaping the MARCOM. Which of them will develop further and which will be forgotten as last year's fashion? We will know in a year, revising 2016 stats! As for now, we should concentrate on the opportunities that are open with these hot trends.
By the way, do you think we've missed something? If you believe, something else has been forgotten and needs to be added to the list– add it in the comments below!